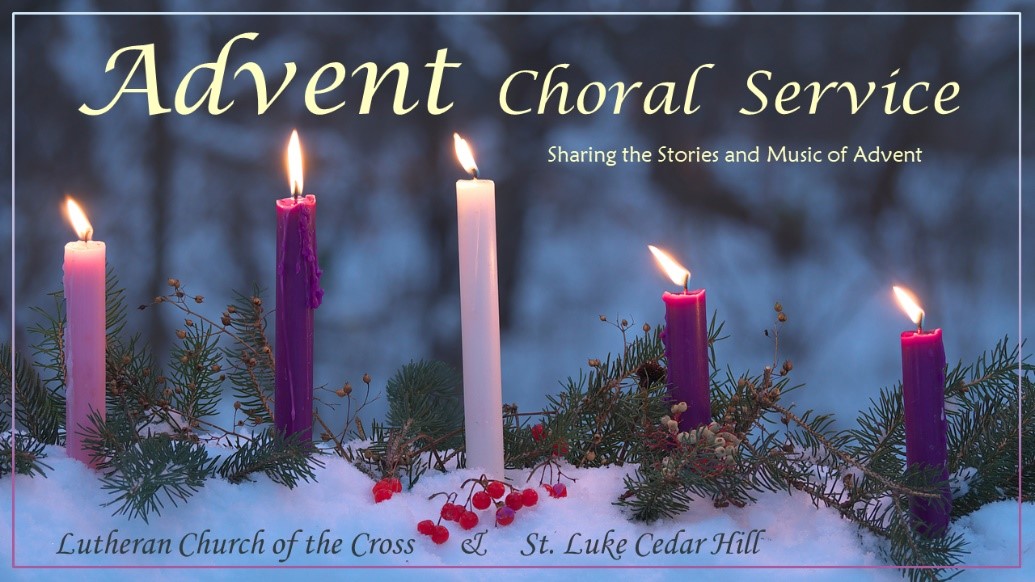 Greetings on the First Sunday of Advent
from St. Luke Cedar Hill and
Church of the Cross
This special First Sunday of Advent service, presented by St. Luke's and Church of the Cross, is now available online. A link has been sent by e-mail. If you would like to receive the link, please e-mail [email protected].
Both congregations contributed to a lessons and carols style worship with a variety of musicians, readers, prayers, and reflections.
The service booklet is below for you to follow along. If you have a printer at home, you can print the bulletin and follow along that way. You can also open the booklet on a second device if you have one or open it in another window along side the video while it is playing. The Announcements and Parish News section of the bulletin is included below as a separate file to download.
A special thank you to the Worship Teams from both churches (whose names are listed at the end of the service and in the service booklet) for all of their work to make this service possible.
Note that music selections included in the service, which are not in public domain, are covered by ONE LICENSE #A-710868. All rights reserved.