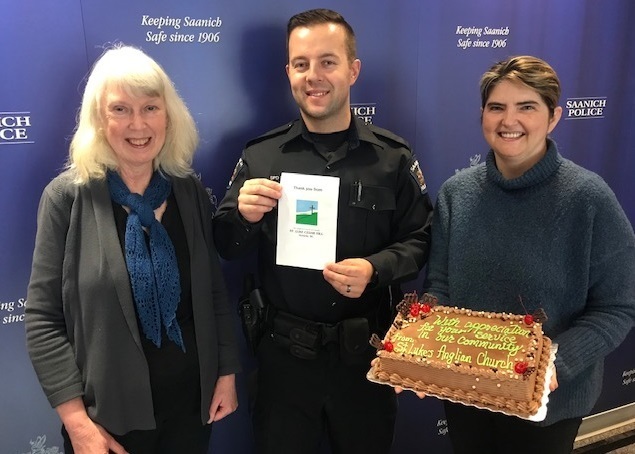 On Saturday, January 19, St. Luke parishioners delivered a cake to the Saanich Police Department. Members of the Saanich police help the parish of St. Luke in many ways. They stop traffic when we have our Palm Procession from Church of the Cross to St. Luke. They assist when we find people sleeping in St. Luke's cemetery and help with cemetery cleanups as well as connecting with St. Luke's parishioners in many other ways.
We highly value the presence of the Saanich Police in our community. An idea, put forward by Elizabeth Bennett of Church of the Advent, was that churches could say thank you to first responders (police, fire fighters or paramedics) in their communities by delivering a cake or cupcakes to them. So the idea of Cakes for Caring was born. We would like to challenge other organizations to do this in January and February as a thank you to the first responders in their neighbourhoods.
Photo (left-right): Barb Prescott, Constable Sean Kay of the Saanich Police, and Sharon Hallsor.