This event has already occurred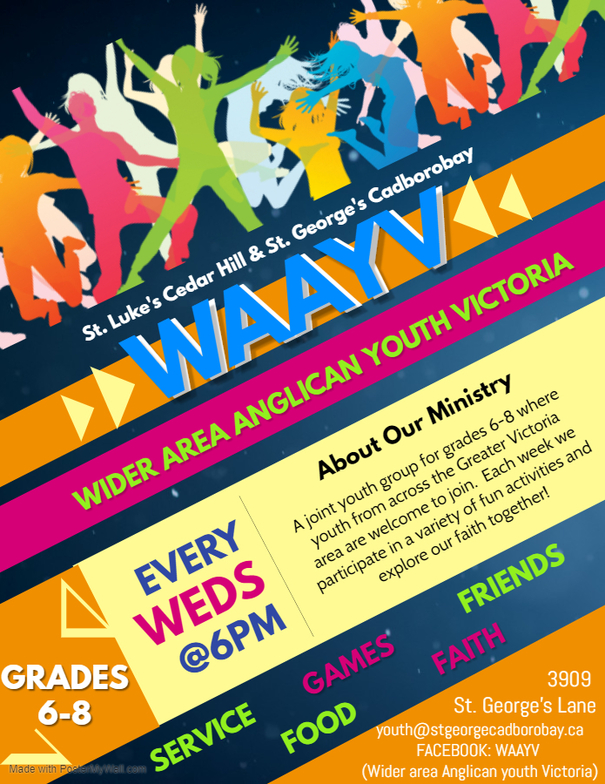 Save to your Calendar
COVID-19 NOTICE: All in person youth gatherings are cancelled for the time being. However, we will be connecting online and gathering as groups using the ZOOM messenger app. For more information, please contact Leslie at: [email protected].
At St. Luke Cedar Hill, we believe that youth are not only the church of tomorrow, but the church of today! Our fantastic and committed youth leaders aim not only to have a ton of fun with our youth but also mentor them on their spiritual journeys. St. Luke's works in partnership with St. George's Cadboro Bay, St. John the Divine, and Lutheran Church of the Cross to create safe spaces for teens. All are welcome to participate!
WAAYV (Wider Area Anglican Youth - Victoria):
Grades: 6-8
When: Wednesdays 6:00-8:00pm from September - June
Where: Via Zoom
Do you need a midweek break from school cliques, homework and chores? Come connect, have fun, make friends and explore spirituality. This group is led by our fabulous youth leaders, Clay Gustavsen and Teaghan Atkins.
UPCOMING ZOOM EVENTS:
April:
15th - Netflix Movie party @6pm
22nd - Socializing and check in @6:30pm
Starting this week on April 15th, we will be doing a longer, more structured activity with a shorter check-in and chat on alternating weeks. The check-in chats will be done over Zoom and will last about 45 minutes. The longer activities will last about 1.5 hours to 2 hours. If you or your students have any ideas for activities they'd like to do, we'd love to hear them!
FOR MORE INFORMATION:
EMAIL: Contact our youth leaders at [email protected] with questions or to receive weekly youth group emails.
BROWSE: Check out the EVENTS section of St. Luke's website or find us on social media.
INSTAGRAM: Anglican Youth