Sunday, February 23, 2020 Next Date
7:00 - 9:00 pm
St. Luke's in February, St. John the Divine in March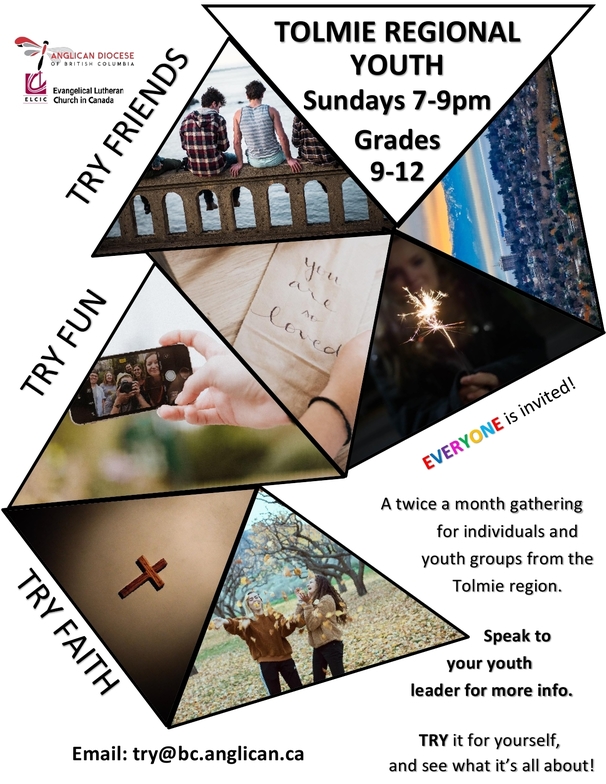 TOLMIE REGIONAL YOUTH (TRY) is a group is for anyone in Grades 9-12 and offers a place where we can have real conversations about spirituality and life! This group offers a safe place to discuss, wonder, and discover our faith. Let's make friends, ask those hard questions, and explore our relationship with God!
Each time we meet is a little bit different – we pray, worship, discuss, make music, and plan a few out trips so that we can engage with our community. The group is youth driven with a focus on discussing topics and planning activities that the group wants to engage in/learn about!
TRY meetings happen every other Sunday from 7:00-9:00 pm at a different parish within the Tolmie Region:
Also check out the information about CLAY (Canadian Lutheran Anglican Youth Gathering) at the EVENTS page of St. Luke's website. CLAY is a 4 day youth conference which brings youth ages 14-19 from all over the country to come together to worship, learn and engage in a variety of activities. CLAY 2020 is happening August 20th-23rd in Calgary.
FOR MORE INFORMATION:
EMAIL: [email protected] or contact our youth leaders at [email protected] with questions or to receive weekly youth group emails.
INSTAGRAM: Tolmie Regional Youth (TRY)