Outreach
Outreach
St. Luke's Financial Outreach Committee meets several times throughout the year and reports to Parish Council. The committee generally supports local charities, but also makes some donations directly to the Primate's World Relief and Development Fund (the official relief and development agency of the Anglican Church of Canada), for disaster relief as needed. An new international project for St. Luke's was the Rice for a Year Program through ABCs and Rice in Siem Reap, Cambodia. St. Luke's Outreach Committee made a donation of $200 and a number of St. Luke's parishioners made donations as well. See News bulletin below for more information.
In 2017, St. Luke's Financial Outreach Committee distributed cheques to a variety of charities within the Greater Victoria area. Our Place Society received a cheque for $700 for the 2017 Project Connect as well as 95 pairs of men's socks and 35 pairs of women's socks and an assortment of other items. Cheques for $500 were sent to The Mustard Seed, Our Place for their programs, and St. Luke's Women's Fellowship to assist Transition House Families.
As one of the partner organizations in the Shelbourne Community Kitchen, St. Luke's supported the Kitchen with donations totalling $4,315 in 2017.
As in previous years, a contribution was made to the Greater Victoria Performing Arts Festival for Sacred Music Awards and support was provided for the ongoing ministry of The Sisters of St. John the Divine.
Again in 2017, St. Luke's participated in a World of Gifts Project, through the Primate's World Relief and Development Fund, buying goats for families in Africa. Loonies, toonies, and bills were dropped in a Christmas stocking hung at the back of the church through Advent to Christmas Day. A cheque for $1500 was sent to the World of Gifts for the Goats Project.
Each week parishioners also donate foodstuffs for delivery to the Shelbourne Community Kitchen and for the Regional "Grains" program in support of the meal program at Our Place. For the Regional Grains program in 2017, St. Luke's donated brown rice, egg noodles, spaghetti, white rice, cream of wheat, macaroni, muesli, semolina, dried raisins, dried apricots, dried figs and dates, and cookies totalling approximately 137 pounds! See below for the 2018 list.
The rent charged to the South Island Centre for Counselling and Training for the use of the rectory continues to be reduced by 50%, saving them $11,000 per year. This is part of our mandate to serve our local community.
In 2017, parishioners contributed an additional $1353 directly to the PWRDF.
St. Luke's received many touching expressions of thanks for all of these contributions. The Financial Outreach Committee would like to thank our parishioners who have been truly compassionate and generous in their donations.
Available Files to Download
To download, right-click the file and select "Save link as".
News
---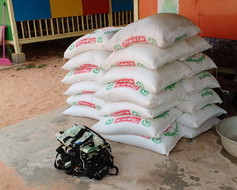 An E-mail Update from Iris about Rice Day  Hello Friends, I know that Lyn has told you that I am once again at ABC's and Rice in Siem Reap, Cambodia. It is so good to be back with these beautiful children, and so... Read More
---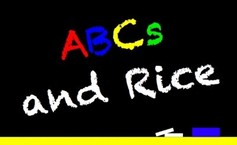 January 2018 Happy New Year from ABCs and Rice Happy New Year and a belated Merry Christmas! After a short holiday over the Christmas period we jumped straight back into the swing of things at ABCs! We missed the... Read More