Outreach
Outreach
St. Luke's Financial Outreach Committee meets several times throughout the year and reports to Parish Council. The committee generally supports local charities, but also makes some donations to the Primate's World Relief and Development Fund (the official relief and development agency of the Anglican Church of Canada) and to Gifts for Mission of the Anglican Church of Canada to support relief work in other parts of the world.
In 2016, St. Luke's Financial Outreach Committee distributed cheques of $350 to $500 to each of twelve charities within the Greater Victoria area: CARTS (Christian Actions Reflecting The Spirit), the Greater Victoria Coalition to End Homelessness for Project Connect 2016, the Legion Foundation for Cockrell House, Victoria Child Abuse Prevention and Counselling Centre also known as the Mary Manning Centre, The Mustard Seed, Our Place, Pacific Animal Therapy Society, theSalvation Army Victoria, the Shelbourne Community Kitchen, St. Luke's Women's Fellowship to assist Transition House Families, Victoria Cool Aid Society, and the Victoria Rainbow Kitchen Society.
As in previous years, a contribution was made to the Greater Victoria Performing Arts Festival for Sacred Music Awards and support was provided for the ongoing ministry of The Sisters of St. John the Divine.
Again in 2016, St. Luke's participated in a Gifts for Mission Project, through the Anglican Church of Canada, buying goats for families in Africa. Loonies, toonies, and bills were dropped in a Christmas stocking hung at the back of the church through Advent to Christmas Day. St. Luke's parishioners contributed enough to send a cheque to buy ten goats for families in Africa.
Each week parishioners also donate foodstuffs for delivery to the Shelbourne Community Kitchen and for the Regional "Grains" program in support of the meal program at Our Place . For the Regional Grains program in 2016, St. Luke's donated rolled oats, muesli, barley, macaroni, green split peas, brown rice, spaghetti, egg noodles, lentils, white rice, dried fruits, and nuts totalling approximately 215 pounds! See below for this year's list.
The rent charged to the ;South Island Centre for Counselling and Training for the use of the rectory continues to be reduced by 50%, saving them $12,000 per year. This is part of our mandate to serve our local community.
As well, this year donations totalling $4000 from the Outreach budget and directed givings were made to the Primate's World Relief and Development Fund (PWRDF), for hurricane relief in Haiti and to help with relief for people affected by the wildfires in Fort McMurray. In 2016, parishioners contributed an additional $1696 directly to the PWRDF.
St. Luke's received many touching expressions of thanks for all of these contributions. The Financial Outreach Committee would like to thank our parishioners who have been truly compassionate and generous in their donations.
Available Files to Download
To download, right-click the file and select "Save link as".
News
---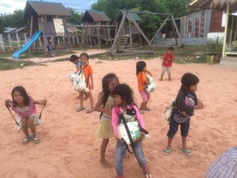 On Sunday, July 9th, we were privileged to have Iris Paruch talk to us about her time in Siem Reap, Cambodia, volunteering with a Canadian organization called ABCs and Rice. She told us about the overwhelming... Read More