Gifts for Another Way
Gifts for Another Way
Wednesday, February 7, 2018

Important: This event has already occurred.

6:00PM - 8:30PM
at Grace Lutheran Church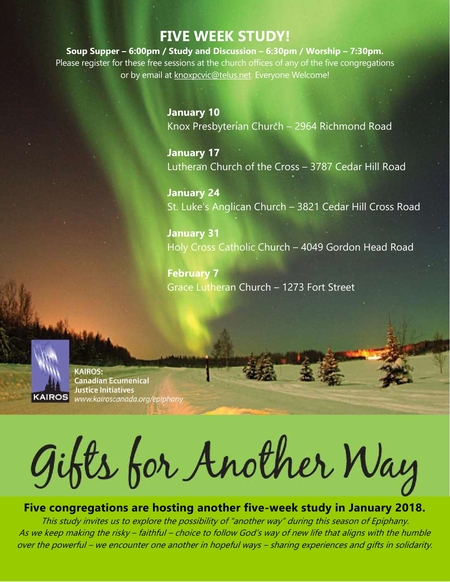 Five congregations are hosting another five-week study in January 2018. This study invites us to explore the possibility of "another way" during this season of Epiphany. As we keep making the risky, faithful choice to follow God's way of new life that aligns with the humble over the powerful, we encounter one another in hopeful ways, sharing experiences and gifts.
Soup Supper – 6:00pm / Study and Discussion – 6:30pm / Worship – 7:30pm.
January 10 – Knox Presbyterian Church
2964 Richmond Road
January 17 – Lutheran Church of the Cross
3787 Cedar Hill Road
January 24 – St. Luke's Anglican Church
3821 Cedar Hill Cross Road
January 31 – Holy Cross Catholic Church
4049 Gordon Head Road
February 7 – Grace Lutheran Church
1273 Fort Street
Please register for these free sessions by contacting any of the church offices or by emailing [email protected].
Return to Events
---