2017 We Together Conference
2017 We Together Conference
Friday, September 15, 2017 - 6:00PM - 9:00PM
Saturday, September 16, 2017 - 8:00AM - 3:00PM

Important: This event has already occurred.

Christ Church Cathedral and School, Victoria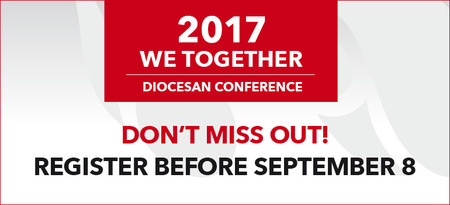 This is when the diocese comes together to learn, pray and be inspired for Christ's service. It's also a great opportunity to meet Anglicans from across our region and to celebrate what God is up to in our midst.
In 2017-18 the diocese is being intentional about being a reconciling church and we have been called, by our bishop, to a Year of Reconciliation. But what does it mean? What is it to be reconciling people, in our selves, at home, in our churches, in creation, with all nations, and beyond? Come and explore these ideas TOGETHER.
Theme: Renewed Hearts, Renewed Spirits, Renewed People
For more information or to register, visit the We Together Conference page of the Diocesan website.
Return to Events
---